Another week flew by and September is here. Wow Q3's almost gone too. I'm pretty happy with the progress so far, and one of the reasons I was able to get a lot of stuff done was AI. Yep, the cat's out of the bag! Should I tell my clients?
It's a question that a lot of freelancers (not only copywriters) are asking themselves. And businesses are probably wondering whether anything their teams are producing is human-made anymore.
There's this air of uncertainty around which makes it hard to think clearly about the real value AI brings to the table.
To me? AI is a tool.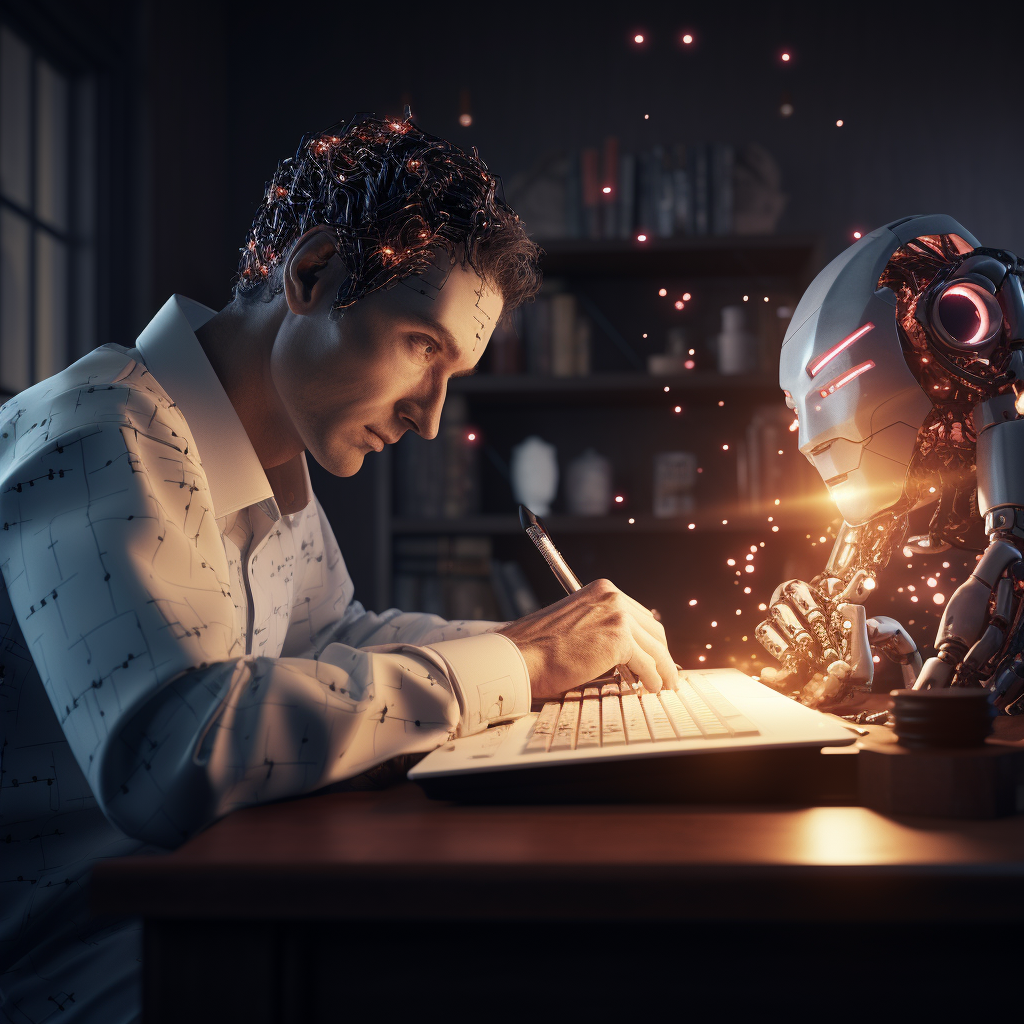 Like pen and paper. Or keyboard and monitor.
Should I tell my clients I use a keyboard and a monitor?
Or that for my review mining I collect data using this spreadsheet or that Chrome extension?
Unless they are tech nerds and religiously add every single MKBHD video to their Watch later cue… not really.
What matters are the results.
Let them speak for you.
In the past 4 months, mostly thanks to ChatGPT I was able to:
Successfully work with 6 clients, at the same time as a solo copywriter (with the extra help of my assistant and video editor)
Launch a podcast
Launch an Etsy store
Publish regularly on Youtube
Write this newsletter
Post content on social media
Get new ideas for improving my systems and processes
Learn anything more efficiently (including getting a nutrition coach certification)
Now, if a client asks, of course I'll share what I'm doing and how I'm using any of my tech. And I'm super cautious with any confidential data.
But like with anything that helps me become better at my craft, AI shouldn't feel like such a big deal.
Nor a secret you must to keep.
On the contrary, I'm convinced that the more we use it and the more we share it, the better we can make it.
Some examples of how I've been using ChatGPT for my copywriting work are: research and analysis (this has been huge), getting headline and value proposition ideas, brainstorming on strategy, editing and fine tuning, preparing client documents, improving my client management and copy systems, and a lot more.
The way I see it is, ChatGPT is my junior copywriter.
Sometimes I have to be harsh, but that's part of the process
If you're still skeptical or scared about using AI tools, know that they will become the new normal. And unless you learn how to work with them, you'll likely get outworked by someone who does.
Here are 3 steps to get started:
Find the most repetitive and/or energy-intensive tasks you typically deal with
Ask: If I had a junior person helping me get these done, how would I teach them?
Head on to ChatGPT or any other AI tool that works for you, and start having a conversation (yes the more human you are the better).
You'll be amazed at how many ideas start popping up and how much more you can get done.
---
✅ Don't miss it
Today I'm sharing a new copy and UX teardown on Youtube. One of you (you know who you are, thank you!) asked for feedback on a client wireframe and copy they were working on. So I decided to record a quick video and share it with you all. Hopefully you'll glean a couple of insights you can apply to your own copy and layout. It's going live later today, make sure you catch it.
Do you LOVE your work? I wrote a quick post on how I think about loving vs enjoying what I do and why that matters. (btw, if you want to see what I'm up to when I'm not putting words to the page, let's connect on IG. I want to see what you're about too – not in a stalk-ish way 😅)
---
📚 3 things to get better at copywriting
1. How to make your writing interesting?
Derek Thompson uses a simple formula: Interesting = novel + important.
A caveat though: this can be great when writing essays or novels. But when it comes to copywriting and words that need to sell, be aware of the creativity trap.
Wanting to be "novel" can be dangerous. A lot of times the tried and tested works better than the new. And what does "important" mean exactly? In copy it means it has to be relevant and resonant. It has to be both a logical and an emotional appeal.
So to apply the formula ask:
– How can I inject something surprising or unexpected into my copy that I know will work for my audience? It can be as simple as a very vivid description of their pain or dream outcome.
– Is what I'm writing here meaningful to my audience at this stage in their journey? Does it matter to them – right now?
Remember, novel & important.
2. Are your offering too many options?
Yesterday I replied to a question about pricing tiers for SaaS in a Slack group:
Q: If a SaaS company has a pricing table with 5 pricing plan options, would you also recommend cutting down the number of options as part of the copy review?
My answer: A lot of it I think depends on how they are presented/laid out and what the target audience expects + how they think about the different tiers. From a UX perspective ~7 is the max number of elements people can keep in memory and grasp more efficiently at once but if the 5 options are packed with features and copy, hard to compare and/or not relevant to prospects mental models then I would recommend rethinking them. If they are well laid out (are they divided into tabs, or all upfront?), simple, to the point and very descriptive then they might work.
In short: I'd wear the customers shoes and try to see through their eyes.
Speaking of doing just that…
3. A newsletter I love:
Every now and then I recommend other newsletters that I find in the wild. They might not be super well-known, and that's what makes them special.
Remote Revenues is the ultimate newsletter for digital nomads and remote workers who want to learn how to buy their first niche website or SaaS business. Get weekly practical advice and insights to [create a source of income that can support your digital nomad lifestyle]. Subscribe for free here.
---
🤔 Thought of the week
"Action means pushing into a new way of living that you have not imagined before. It means pushing through what you're scared of into what you couldn't even think to be scared of. It means pushing through all that, seeing that it wasn't as bad as you thought, then doing it again. Committing to action doesn't end once you get somewhere. It means you never stop pushing." – Kyle Eschenroeder, The Pocket Guide to Action
Action requires courage and boldness. It requires audacity in the face of uncertainty. Taking action changes you when you're not yet ready for change. That's why it's hard. And that's why it's good. Action is simple.