I was scrolling through my emails when I had to stop.
I couldn't believe what I just read.
The email was from one of my past clients.
I had reached out letting them know about the recent launch of my coaching/consulting services for SaaS and Ecommerce, and he just replied.
After the intro on how busy he's been for the past months, he wrote something I'd never have expected.
He wasn't really interested in my consulting packages, no…
…He wanted to hire me!
Here's the email: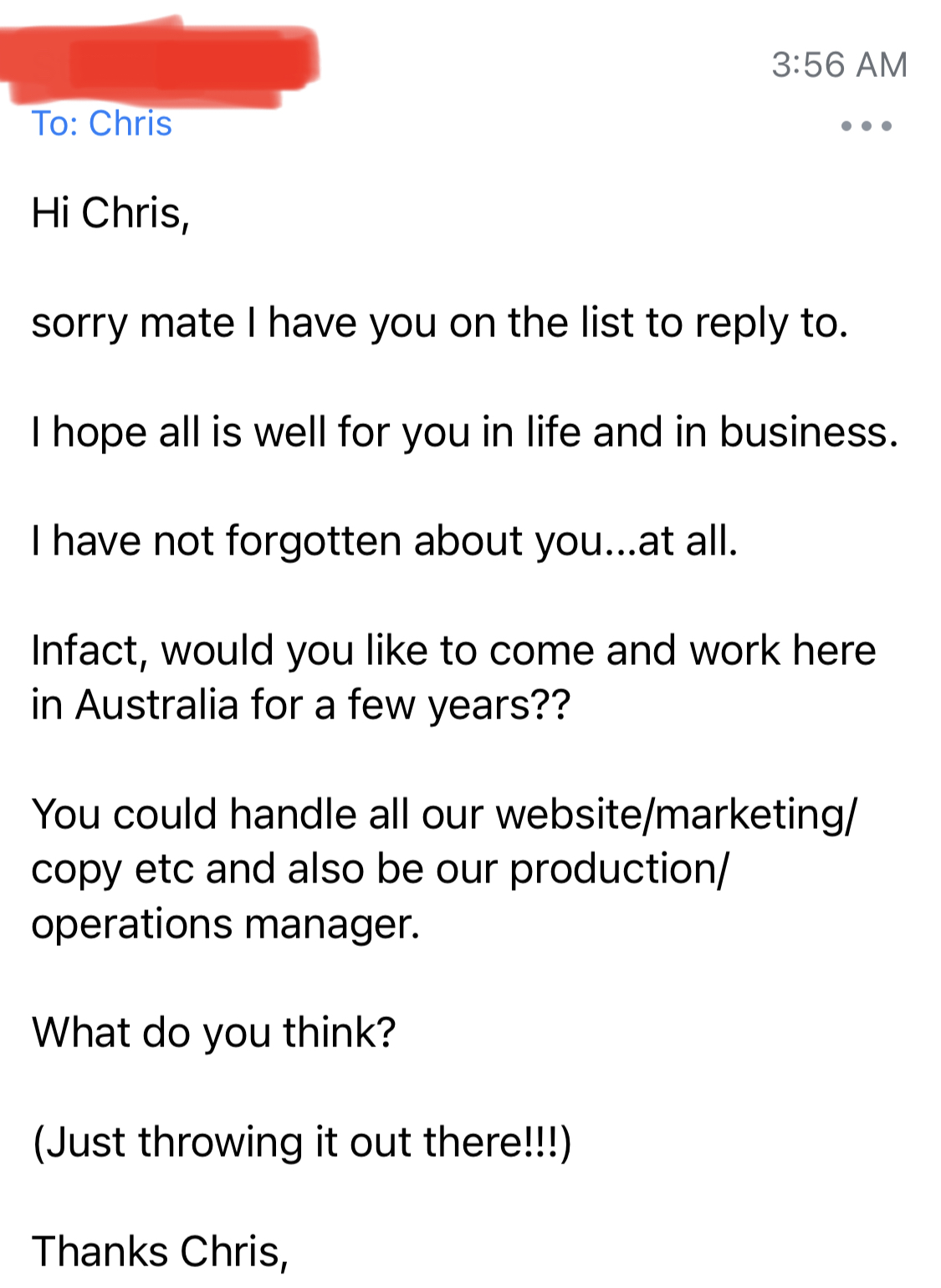 Yeah just an easy task, move to Australia for 2 years and be the marketing manager AND operations manager for a 7 figure Ecommerce store.
To be honest I was honored.
Still have to figure out whether he was kidding or not actually.
Anyway, what does this have to do with getting customers (or clients) for life?
It's all about becoming a partner vs just a provider.
A provider gets the job done, often requires every single step laid out for them and then disappears. A mercenary.
A partner on the other hand is someone who cares about the other person or business as much as themselves or their own business.
They don't need all the steps, they are the ones creating the steps.
I genuinely do care about every single client. Maybe that's the secret.
When you're truly emotionally and "energetically" (a bit woo woo, but let's roll with it) invested in what you're doing for someone else, they inevitably feel it.
Even from a thousand miles away.
I strongly believe that caring more can be your shortcut to a bigger business, better relationships and ultimately more satisfaction.
You don't need to become best buddies with your customers or clients.
But whenever things get rough, I would always ask myself:
"What would I do if this was my business?"
Chances are you'll likely get a good answer for your next decision.
Speaking of caring, I'd love to get to know more of each of you reading.
Some of you have been reading 186 of these emails! And I always want to make them more valuable.
Let's connect: