The other day I was watching an episode of Million Dollar Listing NY, a popular reality TV where a couple of brokers hustle to sell luxury homes.
Why do I watch it? Because I love the dynamics and the strategy that goes into those kinds of sales.
At the highest levels, strategy matters. More than skill.
In one snippet, a client asks one of the brokers for a ballpark range that he thinks he could sell the place for – on the phone.
I loved the broker's reply…
He pushed back saying that he had to think about it first, because he wanted to be held accountable for the range he provided.
That's great reframing. That's strategy.
It's putting the interests of the client first.
My own example…
Lately I've witnessed what strategy can do for you. Or can't, when you're not good at it.
As I was looking for a developer to get on a client project after I was done with the copy, I got an estimate from a salesperson at an agency.
It was around $1,200 for 3 pages.
Great, the client accepted and we moved forward.
Now that the copy is done and designs are ready for dev work, I reached back out for an official quote.
Enter strategy gone wrong…
The actual developer now quoted 3x the price – and for 1 page only!
And the sales guy disappeared from the conversation.
You can see their justifications here: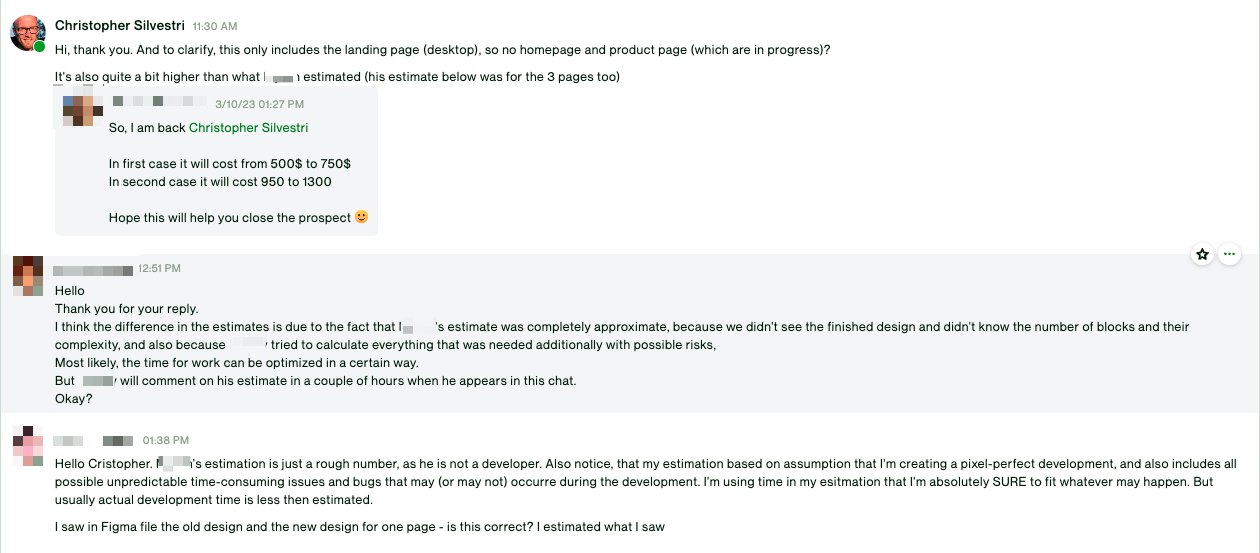 Their explanation? Basically that the salesperson had no idea what they were saying.
Not a great way of dealing with a client.
My point… being an expert a lot of times requires you to think more about the strategy. The skills can come later.
A true expert knows how to estimate a project.
You can be sure that their ballpark range will be accurate. Because they will have skin in the game.
Putting in too many hours? Eat up the difference. Be more efficient or provide a more precise estimate next time.
Don't feel confident providing a ballpark range?
Tell the client.
Show them that you have their best interest at heart.
Strategy matters too, not just skills.
And part of being a good strategist a lot of times is being able to deal with imperfect situations.
Want to strategize together? I have a couple of coaching / consulting slots free, you can learn more here.
Quote and reflection of the day:
"Elegance is achieved when, having discarded all superfluous things, we discover simplicity and concentration. The simpler the pose, the better; the more sober, the more beautiful. And what is simplicity? It is the coming together of the true values of life."
– Paulo Coelho, Manuscript Found in Accra
Mastery requires depth and to go deep you need to keep things simple. Become a master at simplifying. Start with your thoughts.