Does editing your copy feel daunting?
I've got the solution.
It's a simple 3-step process and it comes from… therapy.
By the end of this email you'll have a way to diagnose where and why your copy is not doing a good job and how to fix it.
In short, you have to become your audience's therapist.
Here's why…
I'm reading a pretty actionable short book called "The Four Thoughts That F*ck You Up … and How to Fix Them".
It's all about Rational Emotive Behavior Therapy (REBT), a branch of the better known Cognitive Behavior Therapy (CBT).
The way REBT works is to first help you acknowledge any activating event for negative thinking and then consequences of that thought.
Then it prompts you to pinpoint the belief that's causing those consequences. Here's a quick visual: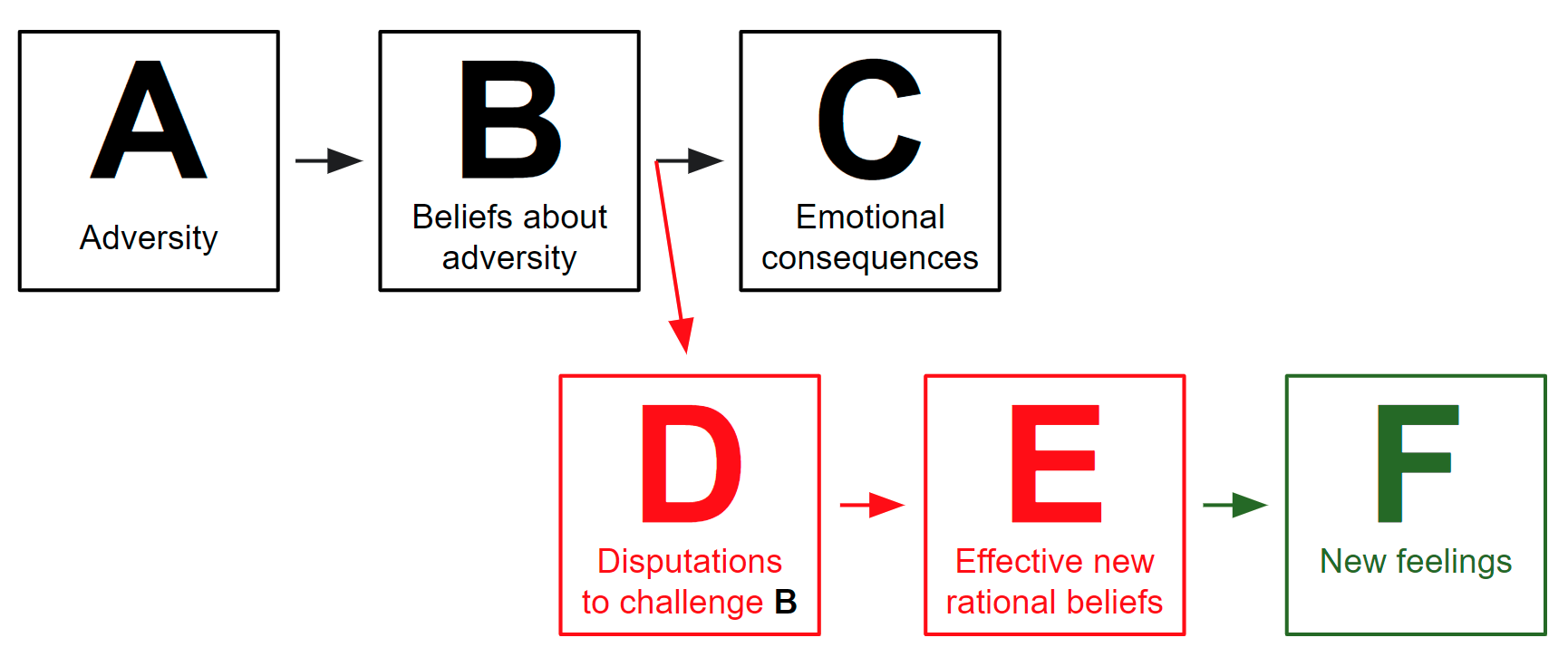 But the secret sauce is in the work that comes after… it's in challenging (or disputing) those negative beliefs.
From the book:
"There are many methods for challenging your beliefs but disputing primarily takes the form of challenging your beliefs with three questions. Those questions are:
'Is this belief true?'
'Does this belief make sense?'
'Does this belief help me?'
How does this apply to your copy and audience?
Every single person reading your persuasive argument will ask themselves these 3 questions. Is it true? Does it make sense? Does this help me?
There's your shortcut to copy editing.
Find out what is true for your readers, present it in a clear way that makes sense for them and make sure you include the primary and secondary benefits.
This is the 80/20 for writing crisp copy.
No need to get any fancier most of the times.
Remember, if it works for humans (especially those in really tough mental states), chances are it's gonna work for the buyer browsing your site.
P.S. Quick random question, do you listen to podcasts? If so any recommendations?
Quote and reflection of the day:
"If you think about what you are doing, your performance will suffer. However, if you think about how your moving feels as you perform, you will do better."
– John Lamb, Anatomy of Drumming
You can think your way to learning but not to mastery. Mastery requires presence and alignment with your emotions and sensations. You have to go within, but without attachment. Flow is much more emotional than rational.